Naples Countryside Golf Country Club Homes and Neighborhoods
Naples Countryside Golf Country Club homes are made-up of detached single-family homes and condos located six distinct neighborhoods. Residents of Naples Countryside Golf Country Club homes enjoy views of the lakes, golf course fairways and preserves that add rustic graces to this community located at the intersection of Santa Barbara Blvd and Davis Blvd. The various neighborhoods are complemented with swimming pools and tennis courts, yet residents additionally have access to the greater range of amenities that await within the greater community which includes golf, the club house, fitness center and more. As a financially solvent, resident-owned, and bundled golf community, Countryside features atypically affordable home prices and lower than average HOA fees (a little more than 4,000 per year). The map below indicates position of the various neighborhoods. Current homes for sale among the respective subdivisions are also depicted below.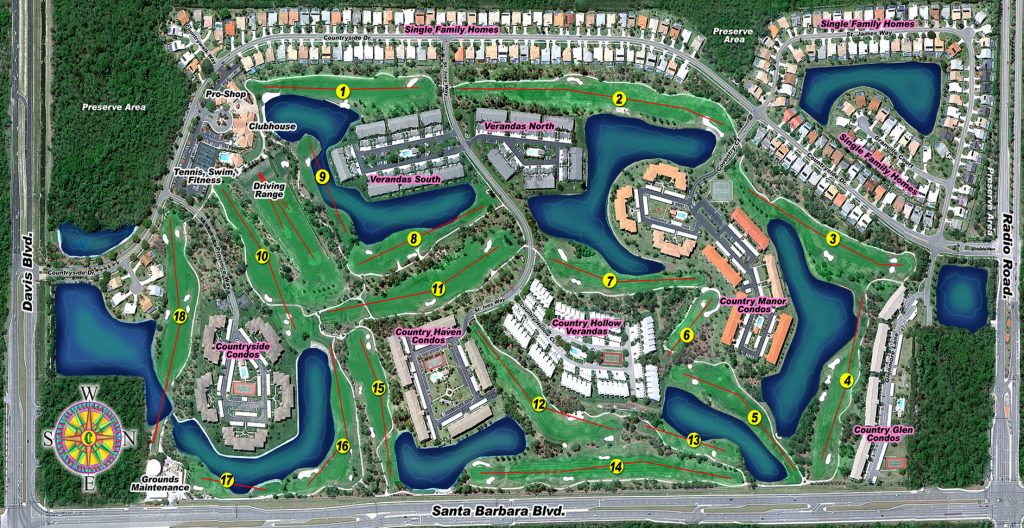 Countryside Neighborhoods
Countryside Condos
Country Glen
Country Haven
Country Hollow
There are currently no active listings that match your search criteria.
Countryside Manor
Countryside Verandas
Contact Domain Realty Group
For more information on Naples Countryside Golf Country Club homes, or to arrange a tour of this outstanding private community nestled here in the heart of a paradise known as Naples, simply reach out to our team of community experts by submitting the contact form below: